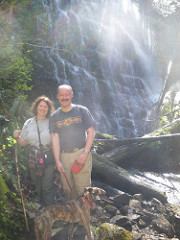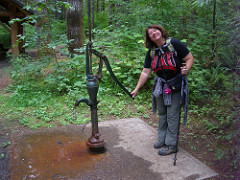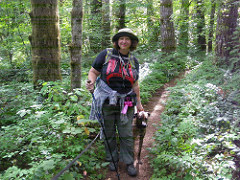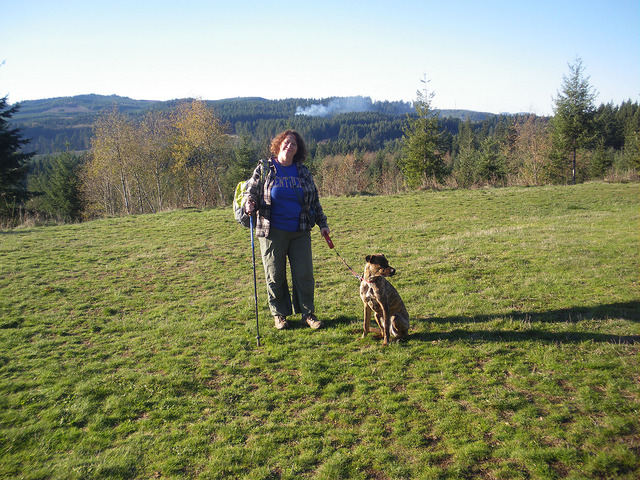 Beautiful Day Hikes & Camping
near Forest Grove, Oregon
(emphasis on dog-friendly places)




Follow me on Twitter: @jayne_a_broad: My tweets are about travel, motorcycling, tent camping, bicycling (mostly as a commuter), and things I find amusing.

disclaimer

I created this page primarily for me, and for friends coming to visit me. There are many books and web sites about hikes and camping in the area - though I've never found a book that lists even most of the hikes I've listed below.

Camping in Oregon is wonderful - but it is also so popular that it can be difficult to do in certain areas without reservations months in advance. And as state forests and many national forests don't take camping reservations - and that's most of the camp sites between PDX and the coast - it can be even more difficult; for instance for any holiday weekend, where the holiday is on Monday, you will not be able to camp at any camp site that doesn't take reservations within a half day's drive of Portland, unless you get to the camp site and set up a tent by WEDNESDAY. I'm not kidding. For an in-season weekend, such camp sites are often filled by noon on Friday.

Hiking around the area is also a challenge: there are few loops, meaning most hiking means you go in one direction, get to an end point, and you turn around and come back. And the trails are either super easy or hugely challenging - there is rarely an in-between.

These are the resources I use to find hiking and camping in the area:

Oregonhikers.org. You have to be careful with this, however, because some of the hikes are through urban areas, along golf courses and on sidewalks through condos - they are trails only in the mind of the person that submitted the "trail." This is a great site for reviews.

Give yourself at least an hour to get to any of these from Forest Grove (90 minutes is better). Note that Sunday afternoon and evening traffic back to Forest Grove is nightmarish, as everyone heads back from the Coast.

Tillamook State Forest Recreation

TSF Recreation Guide

Additional Tillamook State Forest Recreation Information

Tillamook State Forest Trails

Cedar Butte Trail, .75 miles

Peninsula Trail, .8 miles

Entire Wilson River Trail is a 20.6 mile linear trail extending from Elk Creek to Keenig Creek Trailheads. The Tillamook Forest Center is in the middle (roughly). There is camping at Elk Creek and at Jones Creek (near the Tillamook Forest Center), and there is undeveloped camping at Keenig Creek.

Wilson River Trail: Elk Creek - Jones Creek (A portion of this trail connects with the Tillamook Forest Center)

Wilson River Trail: Jones Creek - Keenig Creek, (A portion of this trail connects with the Tillamook Forest Center)

Kings Mountain/ Elk Mountain/ Elk Creek Trails Each trail is between 3.5 and 4 miles. Elk Mountain is extremely steep and narrow. Kings Mountain Trail is also a challenging Hike. You can go up Elk Creek Trail, and make a loop by coming down either mountain trail.

Gales Creek Trail, It's 10.2 miles from Gales Creek campground to Reeher's Camp (campground with just 7 spots for campers without horses). Combine the lower part of the Gales Creek Trail with the Storey Burn Trail for a 7.6 mile loop.

Storey Burn Trail, 4.3 miles, but it's not a loop.

Historic Hiking Trail Loop, Gravelle Brothers Trail (includes University Falls), 2.4 miles, combine with Wilson River Wagon Road Trail and the Nels Rogers Trail, which together are 4.6 miles, for a 7 mile loop. The Gravelle Brother Trail is my favorite trail that I've found in this area.

Four County Point & Steam Donkey Trails, The Steam Donkey trails is made up of two short loops in the form of a figure eight: Springboard Loop, .3 miles, and Dooley Spur Loop, .5 miles. Four County Point trail is about one mile, and is in and out (meaning it would be two miles)

Clatsop State Forest Trails
Campground and Trail Guide

Soapstone Lake Trail. In and out trail, 2 miles. Another web site says there is a trail around the lake, aa 2.8 mile loop
Off Hwy 53. Through a homestead meadow and across a brook. Not sure if it can be combined with the 1 mile loop around Lost Lake.

Spruce Run Creek Trail. At the popular Henry Rierson Spruce Run Campground. The official site says this is a 2 mile trail, moderate-to-difficult climb. In and out. But another web site says it's difficult, and is 5.2 miles in and out.

Note: this web site says that you could easily do all three hikes - Soapstone, Lost Lake and Spruce Run - in a weekend, and stay at a "lovely" campground on the Nehalem River. Not sure if you can walk to all the trailheads from the campsites or if you have to drive to such.

Gnat Creek Campground Trail. A one-mile hiking trail connects the campground to the nearby Gnat Creek Fish Hatchery. You can continue along the trail for another 2.5 miles up Gnat Creek, a tributary to the Columbia River.

Northrup Creek Horse Camp. This facility lies among the lowland meadows of Northrup Creek. The site accommodates equestrian, RV, and tent campers and provides a picnic area along the creek as well as the Big Tree Trail hiking path. The area also serves as a trailhead with over nine miles of developed trails. 11 drive-in sites, 8 with horse corrals

Saddle Mountain, 5.2 miles in and out
Highest point in northwest Oregon, this saddle-shaped peak commands a panorama from the ocean to the truncated cone of Mt. St. Helens. From Portland, take Highway 26 west for 60 miles, and turn north just before milepost 10 onto Saddle Mountain Road. Go 7 miles on this paved, but bumpy road where it ends at the trailhead. Can be crowded on weekends. There are some walk-in campsites available at the trailhead for 9$ per night.

Our Lady of Guadalupe Trappist Abbey, 4 miles round trip (in and out)
9200 NE Abbey Road, Carlton. Hike is an old road that climbs through an oak savannah to a hilltop shrine with a view across the Willamette Valley. The wooded grounds of the monastery of Our Lady of Guadalupe are open to respectful visitors. Hikers are asked to speak quietly, bring no electronic devices, and stay on the main trail. Dogs must be on leash. The abbey is the spiritual retreat of a Cistercian (Trappist) order of monks. Dating to 1098 AD, the Trappist order is dedicated to seclusion and contemplation. About 30 monks live at the Oregon abbey, founded in 1955. In addition to prayer, they bind books, store wine, and bake fruitcake.

Hagg Lake. This is near Gaston. It's a 13.6 mile hike in total all the way around the pay lake. It costs $7 to go here, and given the noise from boaters and beachers on weekends, it's not one of my suggested hikes.

Stubb Stewart State Park. There are more than 30 miles of multi-use trails, including a Northern Loop Hike (4.1 miles). It's a $7 day use fee to hike here.

Lee Falls Hike - Near Gaston. It's supposed to be a fun hike, with swimming below the falls, and it IS on public land, but there is no parking lot, and the people of Cherry Grove hate the people that come here, park along the road and try to hike. Cars have been keyed, people have been yelled at, and a few residents demand money for parking.

Banks to Vernonia Trail. Multi-use trail paved over a decades-old train bed, for walkers, jogger, biker or horse riders. 21 miles of tree-lined, easy-grade pathway. Unfortunately, the only place to camp is at Stubb Stewart State Park. Banks trailhead parking lot is always full (overflowing!) on weekends. It's better to try the Manning or Buxton trailheads if you are headed towards Vernonia. This is an in-and-out trail.

You can also hike Fernhill Wetlands in Forest Grove, Jackson Bottom Wetlands Preserve in Hillsboro, and Miller Woods, a 4.3-mile loop, but dogs are NOT permitted in these.

East Side and South of Portland:

Give yourself at least 90 minutes to drive to the trailheads for any of these hikes below, and leave as early as possible, as traffic through PDX is a nightmare and parking for these can be a huge problem - they are all very popular.

PCT = Pacific Crest Trail

Dry Creek Falls, 4.4 miles one way (so 8.8 miles in and back). Columbia River Gorge
The trailhead for this short hike begins at the day use park on the south side of the Bridge of the Gods in Cascade Locks. A reviewer said, "It's interesting to see how the PCT crosses under Interstate 84 and weaves through the only incorporated city located directly on the 2,650 miles of the trail." Hike two miles on the PCT, then take a short side path to Dry Creek Falls. Despite the name, it's another gorgeous gorge waterfall. Back at the trailhead, take time to walk across Bridge of the Gods. The roadway isn't very wide, so stay along the railing and face traffic. Do this during daylight only. "The view is amazing, much better than when driving across." Here is a review of the trail going South from Bridge of the Gods.

Timothy Lake, Mt. Hood National Forest, 13 miles
It's best to camp at the campsite here the night before and the night after your hike - then you don't have to carry all of your camping gear. Hiking is relatively flat around this reservoir. Begin near the campground at Little Crater Lake and include about three miles of the PCT on the east side of the circuit.

Paradise Park, Mt. Hood National Forest, 10 mile loop
You go west on the PCT and north of Timberline Lodge. One reviewer called it "the most beautiful section of the national scenic trail in Oregon." Make a 10-mile loop from the lodge by circling the wildflower meadows of Paradise Park for above-timberline views of Oregon's highest mountain. Above-timberline views of Mt. Hood.

Champoeg State Park, easy 3.2-mile loop and longer 8.4-mile loop to Butteville
There is a day use fee.

Also see: North Coast Hikes, a list from William L. Sullivan, and excerpts from his book 100 Hikes in Northwest Oregon & SW Washington and 100 Hikes/Travel Guide: Oregon Coast & Coast Range.

Backpacking start points near PDX

-------
More Oregon and Washington suggested short motorcycle routes.

Disclaimer


Any activity incurs risk. The author assumes no responsibility for the use of information contained within this document.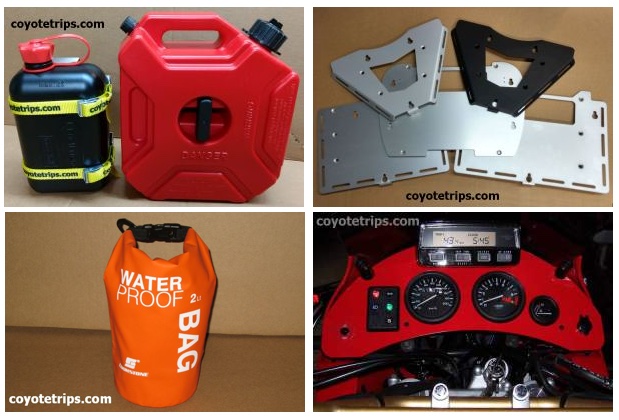 Adventure Motorcycle Luggage & Accessories
www.coyotetrips.com

Aluminum Panniers and Top Cases,
Top Case Adapter Plates,
Tough Motorcycle Fuel Containers, & More

Designed or Curated by an experienced adventure motorcycle world traveler
Based in Oregon
You won't find these exact products anywhere else;
these are available only from Coyotetrips
(my husband)


My other motorcycle resources:
Tips for Women: Getting Started as a Motorcycle Rider

For Women Who Travel By Motorcycle (or want to)

Advice for Women Motorcycle Travelers: Transportation and Accommodations Choices

Advice for Women Motorcycle Travelers: Suggested Books and Web Sites

From Oregon to the "Lost Coast" of Northern California (Horizons Unlimited 2010 California meeting) - August 2010

Oh, Canada...Two-Week Canada/USA Tour by Motorcycles (Oregon, Washington, British Columbia, Alberta, Montana, Idaho) - September 2010

Oregon, Idaho, Yellowstone, & More - June 2011

Crater Lake, Oregon 2011 (photos only)

Our Motorcycle Travel & Rally Plans for 2012

general information and advice for packing (non-motorcycle trips)

general information and advice for novice traveling women from the USA

health & safety considerations especially for women novice travelers.

things to consider regarding transportation and accommodations choices, and advice on preventing motion sickness.

the importance of complaining & complimenting.

transire benefaciendo: "to travel along while doing good." advice for those wanting to make their travel more than sight-seeing and shopping.

my adventures in Europe, Africa, as well as road trips in the USA

links to resources to help women travelers

my page of helpful hints for camping with your dogs in the USA.
return to the broads abroad home page
---
A Broad Abroad | contact me
---
All content created and is copyrighted
by Jayne Cravens, 2010-2017, all rights reserved
The personal opinions expressed on this page are solely those of Ms. Cravens, unless otherwise noted.