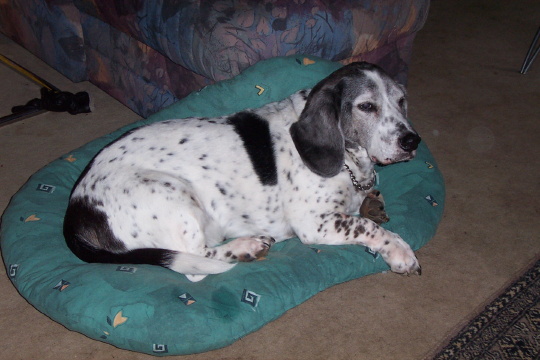 Dog to the Stars, Now Among the Stars

Buster passed peacefully away between 6 and 6:20 in the evening on January 5, 2006. He was probably 17 years old. I held him for the last two hours of his life, stroking him, kissing him, talking to him, and singing along to a Patsy Cline CD. Albi was there with us, at times standing guard over us as we lay in the floor.

It's hard to get my mind around the reality that he's gone.

When I was a kid, I begged my parents for a dog. But various circumstances prevented such. I vowed to myself that, as soon as I graduated from college some day, I'd get a dog. I was probably 11 at the time. It turned out to take two years after I had graduated, and I didn't get the dog: he got me. And I was thankful every day after that to have him in my life.

It was the summer of 1990, and the Williamstown Theatre Festival was having a very good season, with plays featuring Rebecca deMornay, Maria Tucci, Linda Purl, Tony Goldwyn, Edward Herrmann, Anthony Edwards, and then-unknown Gwyneth Paltrow. I was the publicity director, working for the new WTF director, Peter Hunt. For anyone there, pulling 12-hours was a short working day. It was crazy, frustrating and wonderful, sometimes within the same hour. I shared an office with several other people on the campus of Williams College for the summer, and one day -- in late June or early July -- in walked one of the production assistants, with a bouncy dog on a rope leash. "Hey, do you like my new dog?! I'm calling him Buster." The dog had been found outside of a grocery store in town, begging for food. I knew the moment I saw him that he was my dog. I expected the production assistant to lose interest in "his dog" within about a week. I was right.

My office became Buster's home. He would greet me in the mornings as I came into the office by squealing softly and wagging his tail so frantically I thought it would fall off -- except for the mornings when the cleaning lady was still there, feeding him from the box of doggy biscuits she had started to carry specifically for him. Various staff members and interns pitched in to create a bed for him and feed him regularly. He quickly became the most famous member of the WTF company that summer, getting spoiled by the famous -- Stephanie Zimbalist, director Jenny Sullivan, author Jane Anderson, Tom Brennan ("Hey, Buster Ba-by") and eventual WTF head Michael Ritchie, among others -- and the non-famous alike. When I went to Peter Hunt's office or to the theater, Buster went with me, zeroing in on Peter and plopping himself down next to him during the meeting, knowing full-well who was in charge. Kate Burton's son, Morgan, would chirp, "Look, Mom, there's the Buster!" whenever he saw him. When my parents and sister came to Williamstown for a visit and would talk to WTF staffers, they would say, "We're Jayne's parents. She takes care of Buster." And whomever they were talking to would say, "Oh, Buster! We love Buster!" Jayne who? Several WTF company members helped pay for Buster to get "fixed", except for Chad Lowe, who protested on principle ("It's not natural!"). His photo was on the cover of the apprentice Cabaret show program at the end of the season. I swear that Buster landed one of the WTF main stage productions a positive review, because I brought a few of the critics back to my office for drinks afterwards, and they spent the whole time petting Buster -- Jeffrey Borak of the Berkshire Eagle said of Buster, "What a noble dog." And as he petted him under the chin, Buster tilted his head up dramatically, his nose in the air...

Buster flunked his one-and-only audition (as Chad's/Huck Finn's dog) but was frequently referred to during the performance by Steve Ryan, playing Finn's father ("Hey, have any of yew people seen ma dog, Buster?"). Buster attempted to make his stage debut during a performance of the WTF production of Death Takes a Holiday, featuring Blythe Danner, Christopher Reeve and newcomer Calista Flockhart, but was stopped by a stage hand.

I took Buster for an initial vet visit, and the doctor at first guessed that Buster was "a year and a half to two years old." I completely balked. He acted way younger than a two year old. So he revised his assessment and said he was "six months to a year." I asked him "how long this chewing everything phase will last" and he laughed, replying, "Forever." He was right. I also have to note that Buster did not bark for the first month I had him. Various company members tried everything to get him to bark, but he absolutely refused. Then I had to go to the West Coast for an interview one weekend, and when I got back, they said he had barked the entire time I was gone. He didn't shut up for the next 16 years.

I found Buster's original name as I walked with him down Spring Street one day. A woman approached with a smile, pointing at him and saying, "Bogey, right?" I thought she'd misunderstood his name. But she hadn't. As she said, there could only be one dog that looked like that, and that had to be him. She owned his sister. She told me that one of his parents had been a Beagle and the other a Basset Hound. She didn't know the name of his original owners, and didn't seem bothered that I had him now. I spent the rest of the summer terrified that someone would come to my office and claim "Bogey." Thankfully, no one ever did.
Several WTF company members and even some townies claimed that, come the end of the summer, they were taking Buster home -- I thought I was going to have to wrestle John Benjamin Hickey for him. But since I was the one who fed Buster every day and whom he followed everywhere like my shadow (in addition to Anne Lowrie, whom he adored), I got him with little debate -- except for an afternoon dog-napping by the WTF box office staff once.

At the end of the summer, Buster was by me in the cab of my U-Haul back to Kentucky. After that, he went everywhere with me -- he slept in the back of my truck while my Dad taught me to drive a stick shift, and then again as I drove cross-country to move to California. And over the years, across the country again, and to more than 20 other states of the USA (and, 10 years later, to Germany). For road trips, he was the perfect traveling companion, sitting in his seat, quietly watching the passing scenery, or sleeping, and loving every stop, whether it was a forest, a beach, a desert, or a gas station parking lot -- it was all an adventure. There's a saying, "Wherever you go, there you are." And that's how Buster looked at life. He was the perfect Buddhist.






Anne, then of WTF, Buster and Jayne
Buster always assumed the best about both dogs and people, and was very happy, on any occasion, to encounter either. He loved to chase cats, but would run away as soon as they turned on him. And if he saw a cow or a horse, his eyes got twice as big and his expression said, "Wow, that's the biggest dang dog EVER." For most of his life, he darted around like a pinpall in the back yard or on a camping trip, making you dizzy just watching him zip back and forth.

At WTF he'd been surrounded by people and dogs, ready to play, and in the house we lived in first in California, one of my house mates also had a dog. But when we moved into our own flat, Buster went into a bored funk, chewing anything he could get into his mouth -- underwear, bluejeans, VCR tapes, a volume of the works of Shakespeare... and luckily, just as I decided we needed to get another dog to take care of this boredom, Wiley came into our lives. Wiley attacked every dog immediately on sight -- except Buster and maybe three others. Buster couldn't comprehend the idea of another dog not liking him, and the idea of getting into a dog fight was beyond him -- he was a lover, not a fighter. Wiley did bite Buster, when we all moved in together at a new house, but Buster immediately forgave him, and the three of us were a family. Some of those years with just the three of us are the happiest of my life.






Photo by Anne Lowrie
The first reaction most people had when they saw Buster was to laugh. I always described Buster as "Snoopy after a horrible nuclear accident." He just didn't quite look right, and the way he bounced when he walked and swung his butt a bit -- you couldn't help but smile. And the offers for him never stopped -- I had people in California walk up to me at parks and ask, point blank, if they could have him, even buy him. Here in Germany, when I went to adopt a new dog, and Buster and Albi were put into a huge pen together to get acquainted, two different people approached the shelter staff to inquire about adopting Buster.
I remember once when my other friend Anne, this one of San Francisco, stayed with me in San José -- she doesn't even really like dogs that much. But when it was time for bed and I pulled out the living room futon for her, Buster immediately jumped up and laid at her feet. I stared in disbelief, and she looked down, then looked at me and shrugged. "Buster worships me as a goddess." And he did! It was then that I discovered that Buster LOVED very sophisticated women with dark hair. From then on, one of his nicknames was "Playboy." His other, more common nickname was "Boo," which was from when we were moving out to California, and a gas station attendant fussed over him for a while and then said, "My dog's named Buster too, but now, we just call him Boo."
How many different places have Buster and I stayed in together? How many of you have hosted this dog in your home? More than two dozen people and places come to mind. All of you showed Buster such tremendous kindness and affection. And in case you didn't know, he ate up every moment of it.
One of my favorite moments with Buster happened here in Germany, just after I got Albi. Stefan and I were walking the dogs in the park near my apartment, and an Arab guy was pushing his young wheel-chair-bound daughter towards us. I think she had MS. In broken English, he asked if she could feed a potato chip "to this dog. To this dog." pointing at Buster. "Ofcourse," I said. The little girl would put out a potato chip, and Buster would take it, ever-so-gently gently, from her tight fist, as though he knew that the situation called for extra care, and she would almost scream with delight, vibrating in her chair and reaching for another potato chip. The guy just kept thanking us over and over. "My daughter, she loves your dog! This dog! This dog! Thank you!" I cherish that moment.
I cherish a lot of moments with Buster. There are so many memories, too many to put into a web page... of a cabin in the Sierras, with three other dogs, and Buster somehow managing to acquire ALL of the dogs' rawhide treats and then standing over them, under the kitchen table, barking triumphantly. Of him running around like a bullet, making massive figure eights around some girl dog he'd encountered, wearing himself completely out by the time he realized she wasn't chasing him. Of two little kids coming up to me in a park in Cupertino and asking, "Can we walk your dog?", and me saying sure, and then watching those two kids scream as Buster practically dragged them all over the park at breakneck speed, and their grandmother thanking me for "exercising my kids." Of Anne Lowrie walking in long after Buster, his leash strung around her neck, her panting and holding herself up in the doorway. Of harvesting carrots in my back yard garden in California, and when I was done, turning around and realizing that Buster had eaten each one as I picked it and laid it on the ground. Of Buster loving to lay in the sunshine until the black part of his fur was almost hot to the touch. Of Buster and Wiley throwing themselves down into the snows of Wyoming, wiggling on their backs frantically, to make doggie snow angels. Of Buster and Wiley hiding upstairs in Austin while I watched Kentucky basketball games. Of two African women tentatively approaching Buster and Wiley as I walked them and one of them asking in her melodic voice, "Are your dogs nice? May I touch them?" Of my paternal grandmother talking to Buster and Wiley in the mornings when she thought I was still asleep, offering them food I'd told her they weren't supposed to have, and then them following her around for the entire visit (Jayne who?). Of neighbors in California and Texas adoring him through the fences. Of watching Buster and Wiley on leash, running with my sister in a park in Atlanta the day we later flew to Germany. Of my neighbor's German mom commenting, as Buster clomped around her apartment, "Buster is bustin' out." Of his rescue on the Rhein. Of Buster obsessing about Albi when she was in heat (so much for a dog's libido being lessoned when you get him fixed). Of him barking next to her if she laid in a doorway, blocking his way. Of him still managing to sneak onto her bed sometimes when she wasn't looking, even just a week ago. Of so many Germans smiling and laughing when they saw him, just like Americans.
I could go on and on and on and on, and still never say all that needs to be said.
Until well into February 2005, Buster, at 16, could still go on long walks, and he loved clomping around off leash along the Ahr. The donkey at the nearby Tiergarten was particularly fond of him. But by summer that same year, his back legs were much too weak to go down our ridiculously-steep hill here in Sinzig anymore. I tried hauling him up and down in a wagon for a while, but neither of us enjoyed the experience much. His vision was almost entirely gone in his last six months, but he was still able to manage remarkably well. He had a long, long list of health problems and assistive needs at the end, which I don't care to review now -- I'd prefer to let those memories fade. Unfortunately, his appetite and personality were still perfectly in tact all the way until the end, making this an excruciatingly painful act for me.
His last night, he demanded that the back door be opened, and he just stood there, sniffing the night air. And in the morning, he managed to pee all over the entire back porch, from the door all the way to the other side -- a final act of defiance, I've no doubt.
I have a feeling that, in the next life, he'll demand a dog treat from the first being he encounters.
Buster bounced into my life when I was 24. I'll be 40 this month. He's been with me for almost 16 years, for most of my adult life. I am having a hard time imagining my world without him, my best friend, my family.
Thank you, everyone, for you help in all this.
For others facing this difficult decision, this resource helped me enormously the first time I faced this, with Wiley: Euthanasia... What To Expect by Dr. T. J. Dunn, Jr. Other than his discouragement of doing this at your home, the rest of his web site was amazingly helpful.
And, again, I remind you that Wiley and Buster were each destined for animal shelters when they encountered me -- and Albi was actually living in one. Your financial support of your local animal shelter, your spaying or neutering of your pet, or your adoption of a pet from a shelter are all wonderful ways to remember Buster, as well as to enrich your lives.
Your Thoughts
You will always have Buster, in pictures and in your heart, and every time you see a short, stubby mixed-breed with a great bark, it will be a visit from him, and it will bring you great memories.. I know you will be sad and shed mucho tears, but be brave and strong............ Buster is. Love you, and my heart is with you.
-- My brother, Darrell, in Spottsville, Kentucky

God bless Buster. I know that he will be reincarnated as a tall brown Katrina dog with long legs. And he will be rescued by a big old black woman who runs a diner in Mississippi and he'll get to eat bacon fat soaked bread when he's very good. Mostly he'll just sit near the front door and wait for diners to finish eating so that he and his new owner can walk home to their white house with the big front porch. The kitchen counter will have one of those garfield cookie jars that meows when you lift back the head and it will be filled with Bonz. he will sleep on the bed cause now he has legs and can reach the top of the bed. he WILL NOT wake owner up at 6am to pee. he will be polite and wait until at least 730. He loves cats and shares his canned food with adopted Katrina cats. he doesn't mind if the grandkids paint his toenails pink and he really likes wearing silly Santa gear around Xmas. he likes to pee on CHRISTMAS Trees and he hates Tom Delay. God Bless Buster.
-- Erica in Washington, D.C.

Un pequeño homenaje a Buster

Buster, eres un ser especial

Por ser tipo playboy a la vez que perro Budista.

No fuiste nunca corriente y como todos los demás,

Sino algo peculiar y con mucho carácter.

No fuiste perro de un sólo lugar en el mundo,

Sino perro viajero por casi todos los Estados de América del Norte, y recientemente Europa,

Junto a tu Mamá, la Juana. Alemania fue tu hogar reciente y,

Esos viajes y cambios a lo largo de tus dieciséis años junto a ella,

Te hicieron diferente, paciente, curioso, comprensivo, bondadoso, juguetón, sociable y singular.

Así eres tú Buster y así será siempre, porque esa es la huella que tú nos dejas.

Todos los que te conocimos, te quisimos. Era y es fácil, pues tú dabas mucho, al tiempo que marcabas territorio.

Sabías lo que querrías y lo sigues sabiendo todavía hoy, porque eres inteligente, listo, intuitivo, guapo y amoroso

Por eso y muchas cosas más, te echaremos de menos, todos aquellos que tuvimos la suerte de conocerte y de compartirte con Mamá Jayne.

No te vayas muy lejos. Permanece siempre algo más cerca de ella y de nosotros, porque te queremos y deseamos tenerte siempre en nuestros corazones

Te queremos Buster, playboy, perro Budista y Jefe de la Tribu de casa

-- Mi hermana, Alex, en Barcelona
If you would like to see short videos of that feature Buster, please visit my My Space profile and click on "videos" under my avatar.
Here are Many photos of Buster and Wiley
---

This information posted by J. Cravens. The personal opinions expressed on this page are solely the opinion of Ms. Cravens, unless otherwise noted.