You care about an issue -- child abuse, the importance of the arts in the lives of children, dogs and cats in the local animal shelter, trash in the environment, childhood obesity, senior abuse, home gardening, organic farming, bicycle commuting -- and you want to educate people about it, to make a difference, to raise awareness, and maybe even to raise money. But you are just one person and you don't have much money, or any money, to donate to the cause.

How can you be an advocate for an issue that's important to you?
Start educating yourself about the issue you feel strongly about. Find organizations that are addressing the issue and visit their web sites, and read them. Subscribe to their email newsletters, if they have such, and read them. If they have public events focused on learning about their work (rather than fundraising events), attend them. Your goal is to become knowledgeable about the issue.

If an organization that is addressing a cause you care about involves volunteers, then sign up to volunteer. If you aren't sure if they involve volunteers, write them and tell them how you would like to help them as a volunteer.

Never say or imply that you are somehow an official representative of any organization, even if you are volunteering with the organization. You are a concerned individual, but you are not a representative of any organization.

Invite your friends to volunteer with you, or to go to an event by the organization with you.

Occasionally use your status update on FaceBook, MySpace and any other online social networking site you use to talk about what these organizations are doing. It can be this simple:

Our local animal shelter is looking for volunteers this Saturday to help at such-and-such event. If you are interested, call xxx-xxxx.

So-and-so organization is working in Haiti. Have a look at their web site and read about their program to employ local people in rebuilding their own houses, hospitals and schools.

Did you know that you can save money by growing your own victory garden, just like your grandparents? Visit the so-and-so web site for free information on how to do this.

Turn your birthday party into a fundraiser for your cause. Invite friends to your house or to a restaurant, and ask in your invitation that, in lieu of gifts, people make donations to a nonprofit organization addressing the cause you support.

Host a party, cookout or reception at your home, invite your friends (and encourage them to invite their friends), and show a film or documentary relating to the cause you want to educate your friends about. In your invitation, note clearly that this is a fundraiser for a particular organization and that you will be asking for donations; do NOT wait until the party, cookout or reception to tell invitees that you have invited them there in order to ask for donations.

Walk the talk when it comes to the cause you believe in. If you want to advocate for people to commute to work by bicycle, for instance, you need to be commuting by bicycle. If you want people to use less electrical energy, you need to use less electrical energy and show your friends what you are doing.

With permission from an organization addressing the cause you support, have a garage sale to raise money for the organization. Ask friends, relatives, neighbors and others to donate items for your sale. Have large signs at the garage sale that say you are raising money for a particular organization. Make it clear to those who buy items that they will not receive any tax deduction for purchasing any item, nor for making any donations directly to you. Write down the amount of every sale and what the person bought.

Work a series of jobs in the informal sector (walk dogs, pet sit, provide child care/baby sit, do yard work for neighbors and friends, etc.) and save some or all of the money you make for your cause. Make it clear to those who buy items that they will not receive any tax deduction for employing your services, nor for making any donations directly to you.

Sell items on eBay. Ask friends, relatives, neighbors and others to donate items for your sale. Take the money that you raise and donate it to the organization.
Also see
Volunteering To Help After Major Disasters.

How to Make a Difference Internationally/Globally/in Another Country Without Going Abroad

Ideas for Funding Your Volunteering Abroad Trip.

Details on volunteering abroad (volunteering internationally).

Using Your Business Skills for Good - Volunteering Your Business Management Skills, to help people starting or running small businesses / micro enterprises, to help people building businesses in high-poverty areas, and to help people entering or re-entering the work force.

Finding Community Service and Volunteering for Teens

How to Find Volunteering Opportunities, a resource for adults who want to volunteer

Advice for Volunteer Groups / Group Volunteering.

Fund Raising For a Cause or Organization

Creating or Holding a Successful Community Event or Fund Raising Event.

Family Volunteer - Volunteering by Families with Children.

Donating Things Instead of Cash or Time (In-Kind Contributions)

Ideas for Leadership Volunteering Activities
These are more than just do-it-yourself volunteering - these are ideas to create or lead a sustainable, lasting benefit to a community, recruiting others to help and to have a leadership role as a volunteer. These can also be activities for the Girl Scouts Gold Award, the Duke of Edinburgh's Award (U.K.), a mitzvah project, or even scholarship consideration.

Ideas for Creating Your Own Volunteering Activity.

Details on how to quickly fill a community service obligation from a court or school.

How to Get a Job with the United Nations or Other International Humanitarian or Development Organization

Careers Working With Animals (for the benefit of animals)

Helping People Address Their Problems with Plastic
How to mobilize a community to clean up plastic bottles, plastic bags and other plastic waste from their environment, and how to reduce their use of such items in the future

© 2010 by Jayne Cravens, all rights reserved. No part of this material can be reproduced in print or in electronic form without express written permission by Jayne Cravens.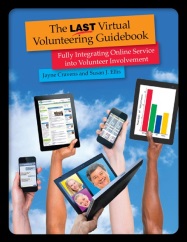 The Last Virtual Volunteering Guidebook, available for purchase as a paperback and an ebook from Energize, Inc.
or as a paperback from Amazon
or as a Kindle book
from Amazon.
This book is for both organizations new to virtual volunteering, as well as for organizations already involving online volunteers who want to improve or expand their programs. The last chapter of the book is especially for online volunteers themselves.