The web page you are reading now provides detailed information to help adults -- people over 18 -- to become volunteers. Before you begin your search

Do not think that you will volunteer in your spare time; set a schedule for your volunteering, or it will never happen. Identify what days, and times of days, you might be available for volunteering. Identify how many hours you are hoping to volunteer each week and each month. Also identify the first day and last day you are available for volunteering, as applicable (some people are available for only the next three months, for instance).

Most organizations do not have tasks laying around waiting for volunteers who, when they might have some time, could just show up and do them -- organizations need to know when volunteers are coming in to do them. Even if you identify just two hours every other Tuesday as when you are available, that is really helpful in getting to volunteer ASAP.

Give each experience a chance for you to enjoy it. Volunteering isn't just about getting work done; it is also about building relationships - with other volunteers, with paid staff, maybe with clients and the public as well. And building relationships take time. Do not give up an assignment after just one time, unless the experience truly made you absolutely miserable. And don't give up on volunteering altogether because of just one negative experience.

Do not wait until the last minute to try to volunteer! You will probably need to call and email several places just to get an appointment for an interview! It may take three or four weeks before you get started volunteering even if you start calling right away!

Just as every job application or job interview doesn't turn into a job for you, every attempt to volunteer may not pan out. Expect to apply to many different places before you end up volunteering.

You may need to work your way up to get to do the volunteering you really want to do. For instance, a hospital may reserve volunteering in the pediatrics unit for people who have volunteered for at least one year with the organization, because volunteering in pediatrics is the most popular assignment.

Do not show up at a work site unannounced to volunteer. For instance, don't just show up at a Habitat for Humanity work site and say, "I'm here to volunteer." Do not just show up to a community theater performance an hour before curtain time and say, "I'm here to usher!" You need to call any organization you want to volunteer with at least two weeks before the date you want to volunteer (a month or more is even better!) and go through an organization's formal application and orientation process, and get the okay from the organization regarding your start date.

You will be responsible for your transportation to and from a site for volunteering. Start thinking about your transportation now, BEFORE you start asking about volunteering: will you take mass transit? Ride a bicycle? Walk? Drive? If someone is going to drive you, has that person already committed to always be available during certain days, and certain times of days?

Most organizations do not provide child care and will not allow you to bring your children, including to meetings and trainings. If you cannot find child care, consider these Family Volunteer Ideas.

You will have to be trained for just about any volunteering you want to do, but training may take just 10 minutes. Training may take a full day. Training may take weeks! The amount of training you will need depends on the type of assignment you will undertake. An usher for a play may need a briefing of just 10 minutes before he or she begins; someone who is going to counsel victims of domestic violence will need many hours of training, and even some testing, before he or she actually gets to volunteer interacting with clients.

Volunteering is a real commitment. People are counting on you to do the assignment you take on. If you don't show up for a shift, even if you call ahead, you are putting your job on someone else -- and you are creating work instead of doing work. A volunteer manager or another volunteer will have to step in because you aren't doing what you said you would do - and that means something else isn't going to get done because of your broken commitment. By all means, if an emergency comes up, call in, but if you do that twice, don't be surprised if you are no longer given volunteering hours.

Be ready to track volunteering hours yourself; use a spread sheet or a paper notebook, and write down the name of organization you assisted, what you did, the day, and how many hours you contributed. Track what you are accomplishing as well. You may want to use this information for a job application, or for applying for a leadership volunteering position (running a project of your own, joining a board of directors, etc.).

Some organizations require volunteers to pay an annual membership fee. That fee can be as little as $10 a year, or as much as $150 a year. Volunteers are never free for an organization, even though they are not paid; involving volunteers costs the organization in terms of employee time (for screening and supporting volunteers) and equipment use, and, in some cases, facilities rental, uniforms, name tags and legal fees/criminal background checks. Some organizations have found that charging a small fee for volunteering drastically reduces the number of volunteer drop outs. If you really cannot afford the required fee for volunteering, talk to the organization about waiving the fee because of your financial situation - most will be happy to accommodate you if you are honest.

Be honest about any and all convictions when you are filling out your volunteering application. Some volunteer roles will ask for your arrest record as well. An arrest or conviction will NOT necessarily disqualify you from volunteering (it depends on the organization, the type of work it does, the population it serves and the volunteer tasks).

An organization has every right to fire you / let you go as a volunteer, often with no stated reason. They are under no obligation to keep you -- especially if you have missed shifts, not followed rules, been late frequently, violated policies, etc.

If you feel mistreated as a volunteer, here is advice for volunteers on how to complain.


Where to Find Volunteering Opportunities

There are many web sites where you can find places to volunteer in your community in the USA:

For Canada (for Canadian citizens and residents): For other countries, see this page that lists volunteer centers in various countries.

You can also look at Guidestar.org, a database of all registered nonprofit organizations in the USA; you can look up all the nonprofits in your zip code, or by other criteria (but you will have to call or email any organization that looks interesting to see if they have volunteering opportunities).

If you find a nonprofit you would like to help, but don't see a volunteering opportunity listed at that organization you want to do, or, call the organization directly and tell them what you would like to do as a volunteer. You can find every registered nonprofit in your zip code using Guidestar; if a nonprofit sounds interesting to you, type its name into Google, look at its web site or call the organization, and find out what volunteering opportunities they have available that the may not have listed online.

Check the organization's web site BEFORE you call, to see if the site provides information about volunteering. You may be able to read about all of the volunteering activities at the organization on the site and to apply to volunteer online. If you do call the organization, present yourself well on the phone. You may want to rehearse what you want to say ("Hello. I wanted to know if your organization involves volunteers? I could not find information on your web site about this."). If you send an email, be sure to spell check it.

Specific Volunteering Ideas

Nonprofit theaters, community theaters, dance companies, university theater and dance departments, and performing arts centers are often in need of ushers in the evenings and on weekends for performances; you not only get volunteer hours, you get into a show for free! Call these organizations to see if they need volunteer ushers for upcoming performances, and ask if you could sign up to help. Local, non-professional/amateur theater companies also welcome volunteer in a variety of roles, from selling tickets to building sets to selling drinks at intermission to sewing costumes to performing on stage.

Most farmer's markets are run by nonprofit organizations. Many of these markets need help with setting up the market, taking down the market, and the evening before the market, putting together food boxes for subscribers to their CSA (community supported agriculture) programs. Helping with all these tasks in just one week can get you, at minimum, 8 hours of service, and you often can contact these organizations with just 24 hours notice to help.

Many hospitals involve volunteers in a variety of roles (but note that not all hospitals involve volunteers). At hospitals that do involve volunteers, you may not get to work with patients until you have proven yourself in other roles. Also, you may be required to provide documentation of the MMR (Measles, Mumps, Rubella) vaccine and recent TB test results (from within the past 90 days of your application). Volunteers may:
provide, caring, compassionate assistance to patients and families during their appointments.
assist in escorting and transporting patients to certain appointments.
direct/escort visitors
implement activities for pediatric patients in waiting room
assist patients leaving the hospital
welcome and facilitate entry of patients and visitors
assist patients with comfort needs (pillows/blankets/reading materials/telephone calls)
direct visitors to cafeteria, chapel, rest rooms, ATMs, etc.
transmit messages from/to visitors to/from patients
update and maintain and information area (stock product catalogs, update bulletin boards and reference binders, organize pamphlet racks, etc.)
photocopy and distribute materials
process information requests and phone requests
answer a phone and a operate fax
assist administrative specialists
staff the hospital gift shop
State parks in the USA often have a variety of volunteering opportunities throughout the year, including one-day opportunities. Call your nearest state park for more information. You can also create your own volunteering activity and propose it at a state park. For instance, when I was at the Lewis and Clark Trail State Park in Washington state, I noticed an information panel behind the park's camping facilities, and on closer inspection, it turned out to be information for the start of a small hike to show the edible plants in the park. But the information was quite faded, and the information needed an update. What a great opportunity for a volunteer! And what about creating such a trail and display in a state park near YOU? Call or stop by your local state park and propose the idea.
A state's Department of Fish and Wildlife may have volunteering opportunities. For instance, volunteers with Oregon's Department of Fish and Wildlife assist with wildlife surveys, habitat improvement, nest box building and monitoring, public education, carpentry, computer and clerical work, and assist at workshops designed to teach introductory hunting and shooting skills, fishing and other outdoor activities to families, women and adults. Volunteers also help with stream habitat restoration work, conduct surveys, and help with education projects. Volunteers can also become certified volunteer instructors and teach basic fishing skills, aquatic conservation and stewardship, ethical conduct, water safety, and safe and responsible hunting techniques.
Each individual chapter of the American Red Cross involves volunteers in a variety of ways. Many chapters are looking for volunteers to help with warming centers in the winter, for instance, for the overflow from homeless shelters on days and nights that are at or below freezing (and unlike most homeless shelters, these often allow the homeless to bring their pets). You could be a volunteer in the office just a few hours a month. You could help at a special event. You could be a volunteer that is on call to help people who have lost their home to a fire. You could train to become a CPR/First Aid trainer. You could be a volunteer driver, taking people with mobility issues to medical appointments. You could help at a blood drive. Find your local chapter of the American Red Cross and look at their web site for information about volunteering. You will have to attend an onsite orientation and, depending on the assignment, some training.
Many nonprofits would welcome your help on short-term computer and Internet-related assignments, but you will need to have the appropriate expertise, and you will probably need to propose the idea to a nonprofit yourself -- in fact, probably more than one. Be ready to present yourself in a very professional manner via email to offer your services as such a "tech" volunteer.
If your local area has a Meals on Wheels organization, they probably need drivers or help in their kitchen. Type in the name of your city and state and Meals on Wheels into Google to find out if you have such an organization in your area.
Animals
If you like animals, call your local animal shelters, animal/wildlife rescue organizations, Humane Society, ASPCA and, if you live near such, a nonprofit zoo. You may have to volunteer for several weeks in an administrative role to prove yourself, and complete training, before you are allowed to do anything with or near animals. See more activities in support at animals later on this page, under "home-based volunteering."
Many of the aforementioned organizations, as well as many other nonprofit organizations, would welcome your help in your area of expertise, such as in any of these areas:
as a lawyer, paralegal or
legal secretary
financial management
web design
database development
graphic design
video production
photography
marketing
small business /
micro enterprise development
nutrition
cheese making
cooking
restaurant management
gardening
farming
animal husbandry
cloth dyeing
fruit and vegetable canning
sewing
weaving
camping techniques
architecture
carpentry
translation
accounting
human resources management
medical care
writing
dancing / choreography
singing
dog training

Here is a detailed list of short-term assignments for tech volunteers.

If you want to provide any of the aforementioned expertise as a volunteer, contact a variety of organizations to offer such. The best way to contact them is via email: write a letter of introduction offering your services, note your availability, and attach your résumé and a list of references. You will need to contact several organizations, and you can expect to go through an interview, just as you would for a paid consulting job.

You can go on these volunteer "vacations", but note that all require you to pay your own transportation, accommodation and food costs, plus a service fee:

National Parks in the USA feature a variety of volunteering opportunities, from short-term assignments (like taking several weeks or a few months helping to organize photo archives) to long-term assignments, such as serving as a live-in camp host or park host. As a camp host, you live at a national park or national monument camp ground in your own RV (you have to supply your own RV) for at least a few months (some places require a six-month commitment), and you open and close gates, answer questions, direct campers in need to the right place or phone number, hand out literature, clean restrooms daily, and contact National Park rangers or local law enforcement if needed for certain situations. As a camp host, you may also place reservation notices on camp sites, though you won't be the one who actually books reservations, and you may be asked to sell firewood as well. In return for being a camp host, you will get a full hook up (water and electricity, IF available at the site), and you may get propane and a landline for local calls as well. If you volunteer for a short-term assignment at a national park (for a few weeks or months), you have to live near the site (if you wanted to stay at a camp site nearby the location of a short-term assignment, contact the office where you want to volunteer - most camp sites won't allow you to stay more than two-weeks, but an exception might be made if you are volunteering on a specific project). See this National Parks web site listing volunteering opportunities for more information.

Many state parks in the USA also involve live-in camp host or park host volunteers. Visit the web site for your state park system, or the state park system of the state where you want to volunteer, for information about camp host opportunities. Like the national park hosts in the USA, state park camp hosts or park hosts live at a state park in your own RV or tent (you have to supply your own RV or tent!) for at least six months, and you open and close gates, answer questions, direct campers in need to the right place or phone number, hand out literature, clean restrooms daily, pick up litter, and contact local law enforcement if needed for certain situations. As a camp host, you may also place reservation notices on camp sites, though you won't be the one who actually books reservations, and you may be asked to sell firewood as well. In return for being a camp host, you will get a full hook up (water and electricity, IF available at the site), and you may get other benefits as well.

Mentoring / Working With Children

Any volunteering with children is going to require that you undergo a criminal background check. An arrest or conviction will not automatically prevent you from working with children; the nature of the crime, the role of volunteers in the program in which you want to participate, and the policies of the organization dictate who can and can't volunteer.
Look at the web site for a nearby public school, or stop by the school during regular business hours, and find out how to volunteer. Many schools have mentoring and tutoring programs, as well as one-day events focused on bicycle safety, sporting events and other activities that welcome volunteers.

If you are in the USA: become a GoodGuides Youth Mentor through Goodwill. This is a national mentoring program at 56 Goodwill agencies in 38 states serving young people between the ages of 12 and 17. These young people are matched with adults who help the youth realize their potential and prepare for their future. Goodwill may have other volunteering opportunities available: you could help train their clients to make clothing displays more appealing or fashionable, or to test electronic equipment before it goes up for sale in a store. You could help train clients in how to create a résumé or how to use word processing or accounting software.

You could volunteer with your local Girl Scouts or Girl Guides to:

help with a one-time event, like a day camp, an over-night camp or a badge day. These events need people to lead or help lead activities, to cook, to make posters for the event (with song lyrics, directing girls to craft tables, telling them how to clean up after the event, etc.) and to staff the registration table at the start of the event, among many other activities.
help individual troops or service units with maintaining their web pages, maintaining their online discussion groups, maintaining their Facebook pages, or designing fliers
help identify groups in your area that would be great targets for Girl Scout / Girl Guides volunteer recruitment (civil clubs, professional societies, etc.)
identify potential activities for older Girl Scouts / Girl Guides (those 12 - 17)
help with a Girl Scout / Girl Guides troop
lead or co-lead a Girl Scouts or Girl Guides troop
serve on a council-level committee

Whether you want to help just ocassionally with a one-time event, you want to help primarily online, you want to work with girls or DON'T want to work directly with actual Girl Scouts / Girl Guides , or you want to invest lots of hours every month, Girl Scouts has a role for you - and you will need to register as a volunteer on your council's web site (you will find your local council via the national Girl Scouts of the USA web site); you can register to volunteer via most council web sites immediately, right now, without knowing where you want to volunteer yet. NOTE: Girl Scouts of the USA does NOT discriminate on the basis of religion (or lack their of) nor on the basis of sexual orientation (unlike the Boy Scouts of America).
CASA Court Appointed Special Advocates is a national, non-profit network of almost 1000 programs in the USA that recruit, train and support volunteers to represent the best interests of abused and neglected children in the courtroom and other settings - including foster children. Volunteers stay with each case until it is closed and the child is placed in a safe, permanent home. For many abused children, their CASA volunteer will be the one constant adult presence in their lives. You do not have to be a lawyer or social worker to be a volunteer. "We are simply looking for people who care about children and have common sense." CASA and guardian ad litem volunteers advocate work directly with abused and neglected children and the people in their lives: foster parents, social workers, attorneys, teachers, medical providers and others; such volunteers are thoroughly trained and well supported by professional staff. In addition, most CASA programs also have opportunities for non-advocate volunteers, such as helping with administrative tasks or special events.
Big Brothers Big Sisters is a national, volunteer-supported mentoring network, creating meaningful, monitored matches between adult volunteers ("Bigs") and children ("Littles"), ages 6 through 18, in communities across the USA.

Most volunteering that you can do from your home or a school computer requires a certain degree of expertise, such as designing flyers, maintaining a web site, translating text, editing video, designing a database, writing press releases or funding proposals, managing online social networking activities, etc. Even if you have the expertise necessary to volunteer online, you will still probably have to go onsite to the organization you want to help, to introduce yourself, to go through their orientation, to meet staff, and maybe even to convince them to allow you to volunteer online (virtual volunteering). List of places to volunteer online and where to find online volunteering opportunities.

Home-Based Volunteering

Below are home-based volunteering tasks you can do that don't involve using the Internet or computers to deliver your services (though you may need to use the Internet to sign up to help). These are assignments for people who sew, knit, or crochet, and for those who want to make greeting cards for ill children or to USA military personnel
Call your local humane society, ASPCA chapter and animal shelters, and ask if you could:
Make appropriate food treats for dogs and cats and drop them off at the shelter. You can find a variety of recipes to make treats for dogs and cats online.

Make appropriate bedding for dogs and cats and drop them off at the shelter. You could use scrap materials gathered from your own home and that of neighbors. There are lots of suggestions for making your own dog and cat beds online.

Organize a dog and cat toy drive, or a food and supply drive for the shelter.

Foster a dog or cat. That means you care for the dog or cat in your own home until it is adopted by someone else. You do this through your local humane society, ASPCA, animal shelter, or dog or cat rescue organization. It is a real commitment; if you take in a dog or cat, there is no where else for that animal to go until it is adopted, so don't take on a foster animal unless you can make the commitment needed!
The Value of Your Volunteering Service
As you volunteer, you are:
Helping an organization achieve its goals

Building references and contacts for future employment or for university applications

Gaining experience that looks great on a résumé

Gaining skills you can apply in paid work or in university studies

If you are volunteering to help you get into a university, note that different colleges and universities have different application processes. Some ask for volunteering hours, some don't. Those that do may want you to fill out a particular form, others will want you to supply letters from the organization confirming your hours, and still others will want you to write a narrative about why you volunteered, what you learned as a part of your experience, why you think volunteering is important, etc., and don't care about number of hours at all. Many universities and scholarship committees are looking for people who have engaged in leadership volunteering activities.

In the USA, if any of the organizations you help as a volunteer are registered with the President's Volunteer Service Award, you can look into getting such an award for your service. However, you can only use volunteering at one organization for the award. Also, the web site is SUPER hard to use -- good luck with it.

You may also want to review these resources regarding labor laws and volunteering.

Also see
Finding Community Service and Volunteering for Teens

People who have been assigned community service by a court or for school may find this page more helpful to find community service.

Using Your Business Skills for Good - Volunteering Your Business Management Skills, to help people starting or running small businesses / micro enterprises, to help people building businesses in high-poverty areas, and to help people entering or re-entering the work force.

Volunteering In Pursuit of a Medical, Veterinary or Social Work degree / career

Creating or Holding a Successful Community Event or Fund Raising Event.

Fund Raising For a Cause or Organization

Volunteering To Help After Major Disasters.

Volunteering with organizations that help animals and wildlife.

How to Make a Difference Internationally/Globally/in Another Country Without Going Abroad

Advice for volunteering as a group / volunteering in a group

Family Volunteer - Volunteering by Families with Children.

You are NOT too young to volunteer! Ways you can volunteer, no matter how young you are

Advice for Finding Volunteer Activities During the Holidays

Details on how to quickly fill a community service obligation from a court or school.

How to complain about your volunteering experience.

Ideas for Leadership Volunteering Activities
These are more than just do-it-yourself volunteering - these are ideas to create or lead a sustainable, lasting benefit to a community, recruiting others to help and to have a leadership role as a volunteer. These can also be activities for the Girl Scouts Gold Award, the Duke of Edinburgh's Award (U.K.), a mitzvah project, or even scholarship consideration.

Ideas for Creating Your Own Volunteering Activity.

Donating Things Instead of Cash or Time (In-Kind Contributions)

Tax credits for volunteering (for residents of the USA)

Ideas for Funding Your Volunteering Abroad Trip.

Details on volunteering abroad (volunteering internationally).

Group Volunteering for Atheist and Secular Volunteers

How to Get a Job with the United Nations or Other International Humanitarian or Development Organization

Careers Working With Animals (for the benefit of animals)

How you can advocate for an issue important to you

Helping People Address Their Problems with Plastic
How to mobilize a community to clean up plastic bottles, plastic bags and other plastic waste from their environment, and how to reduce their use of such items in the future
© 2010 - 2014 by Jayne Cravens, all rights reserved. No part of this material can be reproduced in print or in electronic form without express written permission by Jayne Cravens.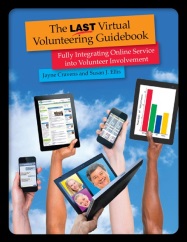 The Last Virtual Volunteering Guidebook, available for purchase as a paperback and an ebook from Energize, Inc.
or as a paperback from Amazon
or as a Kindle book
from Amazon.
This book is for both organizations new to virtual volunteering, as well as for organizations already involving online volunteers who want to improve or expand their programs. The last chapter of the book is especially for online volunteers themselves.

More suggested books about volunteer for youth and families:

Volunteering: The Ultimate Teen Guide (It Happened to Me)

The Busy Family's Guide to Volunteering: Doing Good Together

Doing Good Together: 101 Easy, Meaningful Service Projects for Families, Schools, and Communities

Engage Every Parent!: Encouraging Families to Sign On, Show Up, and Make a Difference

Volunteer Vacations: Short-Term Adventures That Will Benefit You and Others

Children as Volunteers: Preparing for Community Service
Also see: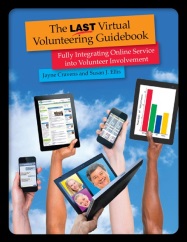 The Last Virtual Volunteering Guidebook, available for purchase as a paperback and an ebook from Energize, Inc.
or as a paperback from Amazon
or as a Kindle book
from Amazon.
This book is for both organizations new to virtual volunteering, as well as for organizations already involving online volunteers who want to improve or expand their programs. The last chapter of the book is especially for online volunteers themselves.