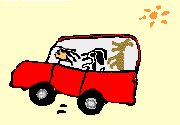 Camping in West Texas

1997

(This was one of my trips that contributed to the Camping With Your Dogs web site)


The dogs love to go camping. They also love coming home. I'm trying to figure out which it is they like most.

It dawned on me while I was traveling this time -- I really have not been camping that much. Less than 25 times total. And only twice on my own, this being the second time. I've gone on lots of road trips by myself, but I usually stay in hotels. I talk more about camping than actually do it. I'm dissappointed in myself.

I also realized on this trip, once again, that TEXAS IS HUGE. Amazing. The bumper stickers are true -- it's bigger than France.

The boys and I left Austin Friday morning at 11 a.m., two hours later than I wanted to. As usual. We went out of town on U.S. 290, through the somewhat charming, somewhat cheesy town of Fredricksburg, past the LBJ ranch (which I still haven't been to) then to ISH 10. I really hate interstates, but I wanted to make up the time I'd lost, so... I continued my butterfly holocaust that started on my recent visit to San Antonio -- several species are migrating right now, and most of them can now be found in my truck's grill.

The weather was gorgeous and I made great time. I turned on to state highway 17 by around 5 p.m., into the Davis Mountains. As you may recall, these are the same mountains where the Republic of Texas guys, who believe Texas is a sovereign nation and have the country's "embassy" in a trailer, kidnapped some people recently, went into hiding and had a shootout with the Feds. But I didn't encounter any secessionists... that I am aware of.

The Davis Mountains are beautiful -- much more so than I had thought they would be. Very steep inclines that reach high into the sky, and lots of red volcanic rock. According to my guidebook, they are a mile-high, and the most extensive mountain range in Texas. They aren't anything like Nevada or California, of course, but really beautiful nonetheless. My guidebook said they would be heavily vegetated, and for mountains, they were. I love desert plants -- they look like something Dr. Seuss would draw.

The road was great -- not too winding (which tends to sling the dogs around, even in their safety harnesses). We got to the camp ground at 6 p.m. There are a LOT of campsites -- this was reminding me of a national park camp site, as many and as close as they all were too each other. I had hoped that by now the camping season would be dying down. I was wrong. Not many sites to choose from by the time we got there... less than a dozen left, and those were all really near the entrance.

I parked and set up camp. We were at the base of a very steep incline, and I decided that I might try to hike it in the morning (try being the operative word). There were no dogs in the nearest camp sites, so I thought we'd be having an easy night of it. After I got the tent set up and myself fed, I tended to the boys. Within 10 minutes, Buster had sprained his back leg and Wiley had been bitten by something, probably a fire ant, and was holding his right front paw high to his chest and looking pathetic. Surprisingly, I did not panic. I calmly started looking for the aspirin, bug spray and Bactine. And then realized that I had left the bag with all of these items at home. Still, I did not panic. I asked my neighbor campers for aspirin, and they sent me to the camp host, who told me that his dog had been bitten the day before -- same symptoms -- he gave me some Benedryl and told me to try that. I medicated both dogs, who promptly fell asleep in the tent, and... well, I had a pretty peaceful evening without the usual first night of oh-my-god-why-are-we-in-this-tent-is-this-forever?! anxiety the dogs usually exhibit.

There were no lights around, and the moon hadn't made it past the high peaks, so I got to see a perfect night sky -- something I had been missing in a major way. So many, many stars. The sky was thick with stars. I wanted to lay out on the picnic table and stare a while -- it's supposed to be a good time to look for meteors, and the sky was clear enough that I might have been able to see a satellite -- but I didn't think the dogs would stay in the tent by themselves, however drugged they may be.

At 11:30 p.m., after about an hour and a half of great sleep, I was awakened by the roar of an engine and the flash of headlights, followed by the slamming of a door and some guy cursing. This was followed by the chatter of several kids. All talked at once for about 30 minutes before it suddenly dawned on the guy, for whatever reason, that he was in a campground, and that there were people sleeping only a few feet away all around, and he might want to SHUT THE HELL UP. Maybe he could feel the hate radiating from my tent, I don't know. But he did suddenly start talking softer. Pity he couldn't put his camp up any quieter or muzzle his damn kids (Jayne the curmudgeon). The chaos finally died down well after midnight. But just to make sure no one forgot they were there, they left a very bright camp light burning all night. Thanks so much... I mean, WHY go camping to get away from it all when you can bring it all WITH you?!

Wiley remained calm through all this, which I attribute to the Benedryl. But at about 4 a.m., he started to growl. I woke up and we both listened -- there was a herd of deer grazing through the camp site. I had put everything back in the truck, so they only thing they bothered was an empty dog food bowl (which I think they played field hockey with). They banged around the camp site next door and then quietly moved on. Buster was oblivious -- he was chilly, so I had him under my camping coat, and he was a sleepy, sleepy boy.

I was looking forward to waking up early and making a lot of noise to wake up my neighbors, but it was not to be -- they were up first, even louder than the night before. It was with great pleasure that I loaded up my camp to move on to somewhere else. But I was bummed that I would be forsaking a hike even partly up the mountain.

I took the dogs out for a short walk before we left. Both were fine -- no limps. Until five minutes later. This time, they both got bit. Fire ants. Buster got bit on TWO feet. So, I put them in the truck, gave them the last of the Benedryl, and tried to decide if I should turn home or go on. My plan had been to hit Guadelupe Mountains National Park that late afternoon, maybe even try for New Mexico and camp there Saturday night, camp somewhere else Sunday night and then drive home all day Monday. I decided that was no longer a good plan. I could go back home... but I would be incredibly disappointed, and all the dogs would do at home is what they do when I drive -- lay around and sleep. They weren't in serious pain... just some discomfort. At least as far as I could tell... so I decided to be a bad mother, take out the map and choose a different route, one on the way back to Austin, generally, but not all the way back -- one more night out, with limited hiking.

I was less than 30 miles from Marfa, Texas. Had I gotten to the Davis Mountains camp site earlier, and had the dogs not gotten hurt, I was going to set up camp and then drive out to Marfa the night before and see those dang mystery lights for myself. As many of you know, I'm trying to hit all of the major UFO-culture sites of the U.S., because I'm such a goofy geek and because I want to document and experience the stupidity of conspiracy-nuts first-hand, and I figured Marfa would be a perfect spot for my continuing studies. I decided Marfa would still be worth a visit in the morning, if nothing else than just to say that I had been there. So, off we went. We stopped in Ft. Davis, but not at the actual historic Fort -- though it looked pretty intriguing, and I will definitely make a stop on my next visit.

Between Ft. Davis and Marfa is... well, not a whole lot. The highest mountain range in Texas ends in high desert plains, no towns, and just a few ranches. But the emptiness is broken suddenly by a VAST greenhouse that must take up a couple of acres at least. Are they growing something to give those X-Files bees something to pollinate? It was kinda eerie. Probably just marigolds. Anyway, I did have an actual unexplained moment during this drive: there was this weird thing in the sky -- it hung there like a balloon, it was small, solid, white, kind of shiny, and it stayed there in one spot high in the sky during my entire tour of the area. It was a cloudless day.... hmmmmm.

Marfa is a quaint little town with no hint of its claim to fame anywhere -- no "Mystery Lights" cafe, museum, gift shoppe, etc... which is disappointing, since I really wanted a cheesy Marfa Lights refrigerator magnet, to go with the ones I have from Rachel and Roswell. The Mystery Lights viewing area is about nine miles east of town on US 90, and it's marked with an official state of Texas road sign. No mystery lights at 9 in the morning, but it was purdy.

I stopped in Alpine to look for postcards. I ended up at the Big Bend Museum, which was a letdown... it's too new to have much good stuff in it. I did buy a few postcards there. And I noticed, not for the first time, how Texans embrace the duality of their culture -- European and Mexican -- rather than fight it like Californians do. You see it in the names of businesses and in the way people talk to each other. There's a blending of the cultures instead of a polarization. I've noticed it in Austin, but it's really apparent in these West Texas towns.

Since US 90 was proving to be so lovely, I decided to head for Seminole Canyon State Historical Park, near Del Rio in the Southern part of Texas. It was the right decision. U.S. 90 is one of the most beautiful roads I've ever traveled. Plateaus, canyons, rolling hills, and no cars or people for miles and miles and miles. I got to the tiny town of Marathon and thought about staying for good. It's the perfect West Texas town. They were having an arts fair, and there were hand-made quilts hanging on the court house commons. I pulled over, wrote up some post cards, and mailed them at the little post office in the center of town. Then it was back to the highway. I didn't see another car for the longest time. Just when I was thinking, hey, this would be a great road for motorcycles, here came a group of seven.

Starting at a tiny town in Sanderson, looking out of my passenger side window, South, I could see mountains in Mexico. An Amtrak train with one of those mostly-glass viewing cars came by at one point, far off to my left as I headed East, and I opened up my window and waved wildly. I'm sure they all thought, "Geesh, there's one of those idiot Texans." Little did they know it was an idiot Kentuckian. After several more miles of beautiful scenery but no people, I saw two, then three, then four small planes circling ahead of me. I finally came upon a tiny airport that was having a benefit for the local fire department -- I guess they were giving away rides. If it hadn't been so hot, I would have stopped. More miles of nothing but me, the dogs, my truck, the desert and the road... and then I saw something red in the distance, bobbing up above the horizon, then slowly sinking down. As I got closer, I saw it was a small red helicopter, filming three men on horseback, riding side-by-side, being closely followed by an old pick up truck. Whatever.

I passed a sign that said, "Judge Roy Bean Saloon and Museum - Next Exit." I was making great time, I was going to get to Seminole Canyon by about 2 as it was -- what the heck! I made the exit, drove just a couple of miles, came around a bend, and there was a small, tasteful complex that's been built around the actual saloon where Judge Roy Bean dispensed whiskey and justice (yes, I read all the signs). I stood inside the saloon, the adjacent pool hall (where Judge Roy Bean died), and his residence (which he called the Opera House -- I have no idea why). Next to it is a garden of Texas desert native plants. Across the street, far into the distance, you can see a huge cave on the Pecos River, probably in Mexico. And just across the street is a little gift shop/gas station/supply store. And that's really it for that town.

At the museum, the very friendly staff person insisted on calling Seminole Canyon State Historical Park when I told her where I was headed, to make sure they weren't already full. And they were, indeed, already full. So, she whipped out a map and told me to stay at Amistad Reservoir, which has three camp areas, none of which are on my 1996 Rand McNally Road Atlas (note to self -- time to get a new road atlas).

I headed across the street to the gift shop to buy more post cards. The woman behind the counter asked where I was from, and I gave her my usual, "I'm here from Austin, but I'm originally from Kentucky." She asked where in Kentucky, and I told her. She's from Paducah! We talked about Western Kentucky and basketball for a while, and then it was time to hit the road.

The Pecos River is breath-taking -- not the river, actually, but the gorge it has carved. It comes up all of a sudden. I wish I had gotten a post card of it, but I had no idea I would be crossing it, and I have this thing about buying postcards of only places I've actually seen....

At last, I reached spur 406. I turned onto it, and after about two miles discovered that it runs right into the International Amistad Reservoir. There were only about seven camp sites, all spread out from each other. And the area itself felt so remote -- there was nothing in view but desert all around us, and the water in the distance. There was only one "single" campsite left, one that was removed from the main area. It had a small picnic shelter, and was right next to a meadow overflowing with desert flora and butterflies. Just a few yards on the other side of the meadow was a steep, rocky hill, where the sun would set in a few hours. Across from us, on the otherside of the road, was rolling hills as far as the eye could see. I set up camp, and after I got the tent up and the sleeping gear unpacked, I took the dogs back down the road to have a dip.

We parked at the water's edge, I got out of the truck and approached the only other people there -- a couple sitting on the banks, reading. I asked them if they had a dog, and the woman turned to me and said, matter-of-factly, "We are German, and we do not speak English." German tourists are the most abrupt people on the face of the Earth. This just adds to my growing list of German tourist stories. Anyway.... the dogs enjoyed their dip, no one was limping anymore, so I figured this all had been a good decision.

We went back to the camp, and I left the dogs in the truck, because that's where they are happiest. I ate, wrote more postcards, watched butterflies, listened to the land, and fought off the ants that were starting to march all over the tent -- I used hand lotion around the base of the tent to keep them away and it worked!. Then the dogs got to run around for a little while off-leash -- something I'm willing to do when I'm not near other camp sites and I figure we've made enough noise to ward off any critters, including deer. It was warm, with a cool breeze rustling the trees. I read most of this month's Vanity Fair (always surreal to read while camping), then we settled in for the evening. We were all out for the count by 10.

At 7 a.m., Buster decided it was time to get up. So, we did. We had a nice long walk along the road. I saw a herd of deer in the distance, but the dogs didn't, and that's a good thing, because even though we were down the road from other campers, I knew that the barking would carry. We were all fed and packed and ready to come home by 9 a.m. We drove back down Spur 406 and headed East again on Hwy 90. As we drove through more of the land around the reservoir, I realized we had lucked out by picking the camp site where we did -- the other camp sites were nearer the water, but much closer together, and there were a LOT more of them. It looked... kind of "resorty." Ick. Lots and LOTS of hunters -- definitely not an area to go hiking in. And pro-Gun, pro-Ruby-Ridge bumper stickers abound, like in Nevada.

We drove less than 20 more miles, then headed North on U.S. 277. It was a very hilly road, with LOTS of road kill -- I had to honk my horn as I came over a hill, so that the vulchers in the road would disperse and not become road kill themselves. Then it was back to Interstate 10, and then back to 290 and back to Austin.

So I was home a day early. And that's okay. Wiley is laying on my bed, giving me a "what's going to happen next" look. Buster is staring out of the window. The phone rang off the hook last night and I ignored every call. Tried watching "Crime and Punishment," but the Russian accents were driving me CRAZY -- either speak Russian and use subtitles or speak English but using accented English to suggest another language is STUPID. The TCM retrospective on Universal horror films and the "X-Files" rerun were much more enjoyable. Today, I'll unpack the truck and clean the hand lotion off the tent....

Return to the broads abroad home page


Disclaimer
Any activity incurs risk. The author assumes no responsibility for the use of information contained within this document.
---
Quick Links
---
| | | | | |
| --- | --- | --- | --- | --- |
| | | | | |
The material on this site was created and is copyrighted 2001-2014
by Jayne Cravens, all rights reserved
(unless noted otherwise, or the art comes from a link to another web site).


The personal opinions expressed on this page are solely those of Ms. Cravens, unless otherwise noted.
---