Our Motorcycle Travel Activities in 2013




But 2013 was a tough year for travel:

we bought a house
we had tons of things we had to do on the house
we moved from one city to another
family visited from overseas for six weeks
my husband started the volunteer firefighting academy
I actually had paid work this year
Altogether, it ate up almost all of our time. And while I did get to Belgium, it was without a motorcycle - and was a horrible trip.

So, two-week trip, no weekend trips, no camping, no rallies in 2013. Big ugh.

But worst of all for us in 2013 was the death of Eric Haws, a legendary motorcycle traveler and our very dear friend. He passed away May, due to cancer. The loss of our dear friend and, of course, cancellation of his annual Burning Moto Man rally in Westfir, Oregon, put dark cloud over us all year. We miss Eric terribly.

We will always refer to 2013 as the Year We Didn't Really Travel by Motorcycle. Ugh. In fact, I didn't ride even 1000 miles on my bike in 2013. That's shameful.

Some things we did get to do via motorcycle - all day trips in Oregon:
Three times we went to Tillamook and back to Forest Grove on all day trips. Two trips were through Yamhill and Carlton, then along the Nestucca River in the Siuslaw National Forest. Another was Willamina Creek Road, past Blackwell County Park, to SW Coast Creek Road to Gilbert Greek Road which becomes Bible Creek Access Road as well, to Upper Nestucca River Road. These are my favorite local roads for motorcycle travel - scenic, twisty, and not a lot of traffic. Almost all of it is paved.


Forest Grove through Vernonia and Birkenfeld to Jewell, Oregon, about 100 miles from Portland, and from there, you have several options to either go back to Portland or to go on to the coast. This is my favorite day trip via motorcycle in all of Northern Oregon, East or West. Make it even longer and go all the way to Astoria or Seaside, and can be combined with some other trips on this page.

Three or four times on the twisties to Vernonia & a week bit of gravel: Forest Grove to Vernonia to Scappoose to North Plains & back to Forest Grove (Oregon) - 96 miles, including 16 miles of gravel. And sometimes just from North Plains to Scappoose and back, so I could get practice on gravel and a nice lunch - this is a terrific road if you need to practice on gravel.


A ride in Tillamook State Forest in Oregon, from Cochran Road and the town of Timber. It's a wonderful loop inside the forest - easy in terms of road conditions, as long as it's dry and hasn't been raining too much previously (packed gravel and dirt, very gentle inclines) but not in terms of staying to the main gravel roads - things aren't marked very well. There are OHV trails all around here, but we stayed off of them - we don't have permits, because neither of us have the bikes for those kinds of conditions, and I certainly don't have the abilities.


I have a list of suggested motorcycle day trips from Portland, Oregon. Many can be linked together to create longer trips). If you know of any relatively easy gravel or dirt roads near Portland (low traffic, no steep hills, packed gravel or packed dirt, if I fall, I probably won't die), please contact me!

The theme in 2013 for motorcycle riding for me was: get more experience on gravel. I was going for 100 miles. I'm not sure if I made it - but my husband has said that my skills improved dramatically this year. So, while I didn't get to do much travel, I did accomplish something. Yeah, me.

Things changed for the better after 2013:

In 2015, we went all the way to Yukon and back, seeing a LOT of British Columbia.

In 2014,

we toured large parts of Utah, Nevada & Oregon.

Amazing trips, both of them!

Also see this list of my motorcycle travel dreams, big and small!

And before 2013:

In 2012, our two-week trip was to Northern California, Nevada, and Southwestern Oregon (including the Alvord Desert). In 2011, it was to Yellowstone National Park (and large parts of Montana, Idaho and Oregon). In 2010, we took two long trips, one to the "Lost Coast" of California, and another to Canada (Alberta and British Columbia, Jasper, Banff & Kootenay National Parks) and Glacier National Park. And in 2009, we moved from Germany to the USA, and spent our time moving - although that was also the year I spent a lot of time to get my motorcycle license, learn to ride a motorcycle and my first motorcycle! From February 2001 through 2008, all my travels were overseas, as I was living in Germany.

See the TravelAdvisor map of where I've been (not just by motorcycle). Note that the green markers are where I want to go but haven't been yet.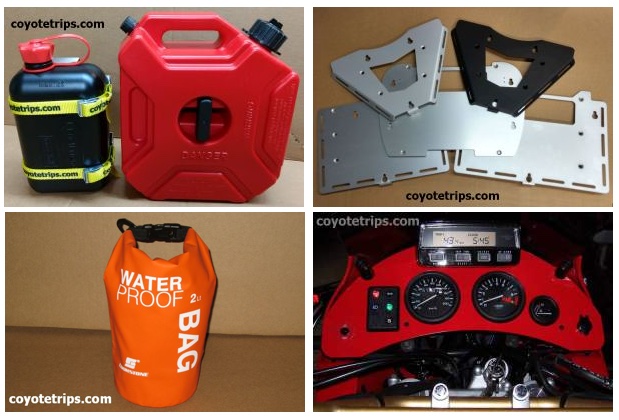 Adventure Motorcycle Luggage & Accessories
www.coyotetrips.com


Aluminum Panniers and Top Cases,
Top Case Adapter Plates,
Tough Motorcycle Fuel Containers, & More

Designed or Curated by an experienced adventure motorcycle world traveler
Based in Oregon
You won't find these exact products anywhere else;
these are available only from Coyotetrips
(my husband)



My other motorcycle resources:

Also see:

Tips for Women: Getting Started as a Motorcycle Rider (just to ride, not necessarily to travel as well)

For Women Who Travel By Motorcycle (or want to)

Advice for Women Motorcycle Travelers: Transportation and Accommodations Choices

Advice for Women Motorcycle Travelers: Suggested Books and Web Sites

From Oregon to the "Lost Coast" of Northern California (Horizons Unlimited 2010 California meeting) - August 2010

Oh, Canada...Two-Week Canada/USA Tour by Motorcycles (Oregon, Washington, British Columbia, Alberta, Montana, Idaho) - September 2010

Oregon, Idaho, Yellowstone, & More - June 2011

Crater Lake, Oregon 2011 (photos only)



International trips by motorcycle
Albania, Austria, Belgium, Bosnia and Herzegovina, Bulgaria, Canada, Croatia, Northern England & Scotland, France, Hungary, Italy, Luxembourg, Macedonia (the former Yugoslav Republic of Macedonia), Montenegro, Norway, Poland, Romania, Serbia, Slovakia, Slovenia, Sweden

Trips riding my own motorcycle
California ("Lost Coast" and gold country), Idaho, Montana (Glacier NP), Nevada, Oregon, Washington (state), Wyoming (Yellowstone), Canada (Alberta and British Columbia, Jasper, Banff & Kootenay).


Disclaimer
Any activity incurs risk. The author assumes no responsibility for the use of information contained within this document.



_______________________________________________
_______________________________________________

If you have read this blawg, PLEASE

let me know

.

Comments are welcomed, and motivate me to keep writing -- without comments, I start to think I'm talking to cyberair.
---
Quick Links
---
| | | | | |
| --- | --- | --- | --- | --- |
| | | | | |
---
Disclaimer: Any activity incurs risk. The author assumes no responsibility for the use of information contained within this document.
This material is provided as is, with no expressed or implied warranty.

Permission is granted to copy, present and/or distribute a limited amount of material from my web site without charge if the information is kept intact and is credited to Jayne Cravens. Please contact me for permission to reprint, present or distribute these materials (for instance, in a class or book or online event for which you intend to charge).

The art work and material on this site was created and is copyrighted 1996-2013
by Jayne Cravens, all rights reserved
(unless noted otherwise, or the art comes from a link to another web site).

The personal opinions expressed on this page are solely those of Ms. Cravens, unless otherwise noted.