Impact Online was a nonprofit organization founded in the mid 1990s. It was one of the first web sites, and maybe the first web site, where nonprofits could post their volunteering opportunities and people that wanted to help could sign up to help. In 1998 or 1999, it became
VolunteerMatch
.
Unfortunately, someone requested that old versions of the Impact Online web site be removed from
the Internet Wayback Machine
, and so all archives of the original web site are gone.
Luckily, I downloaded some of text and graphics from that original, pioneering web site. I'm sharing them here because the original Impact Online initiative deserves to be remembered and honored.
Here's the
original text from the 1995 version of the web site
about why the organization was founded. Note the mention of virtual volunteering - the first use of the phrase anywhere online or off.
Here is the original text from the 1995 version of the site about
the complete history of the organization
.
Here is
a list of the online volunteers that helped Impact Online
(a list maintained by the
Virtual Volunteering Project
, an initiative launched by Impact Online)
Sadly, I don't have the home page downloaded anywhere.
Below are two graphics from the original site. All designs are by Mark Bult: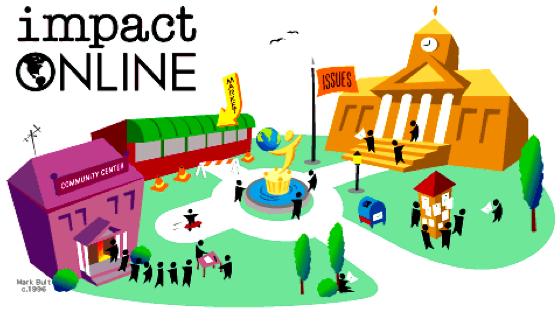 The archived version of the Impact Online web site, which we all had access to via
archive.org
but was removed by request of VolunteerMatch, said, "Using Internet technology to facilitate and increase community involvement was the idea behind Impact Online." Impact Online was founded by four MBA students:
Steve Glikbarg
,
Cindy Shove
,
Mark Benning
and
Joanne Ernst
. As Glikbarg noted in that Impact Online history (part of which I had downloaded many years ago - hence why I can quote this), "Being well-trained MBA alumni, we diligently developed a business plan, made financial statements three years into the future, extrapolated the rapid growth of the Internet and explained how this new medium could revolutionize community involvement. But we were early and few people seemed to grasp the potential... charitable foundations assumed we were looking to fund a technology project (something few do) instead of funding a community outreach project (which many do fund)." Impact Online, and particularly
Steve Glikbarg
, deserve a lot of credit for getting nonprofit organizations in the USA online, particularly on the West Coast, both through the web site and through the founders' many meetings with and events for nonprofit organizations in the San Francisco Bay Area. They also deserve credit for something else: in 1996, Impact Online secured funding for what became
The Virtual Volunteering Project
.
If you want detailed information on how to work with online volunteers, and how to fully integrate virtual volunteering in to all of your community engagement, see: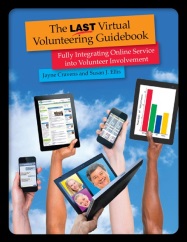 The Last Virtual Volunteering Guidebook

available for purchase as a paperback & an ebook

from Energize, Inc.
Completely revised and updated, & includes lots more advice about microvolunteering!
Published January 2014.

Also see: