Revised with new information as of December 11, 2017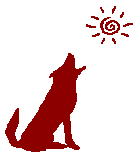 A free resource for nonprofit organizations, NGOs, civil society organizations,
charities, schools, public sector agencies & other mission-based agencies
by
Jayne Cravens
via
coyotecommunications.com
&
coyoteboard.com
(same web site)


Lessons from onlinevolunteering.org
2001 - 2005

From February 2001 to February 2005, I had the honor of directing the
United Nations Online Volunteering service
. It was originally hosted at
NetAid
and was co-managed by Netaid staff in New York City and staff at the UN Volunteers program in Germany. After joining UNV in Germany, I worked to move the service entirely to the ownership and management of UNV, which happened at last in early 2004.
When I took over directing UNV's support of the Online Volunteering service, it was getting lots of people signing up to volunteer, but not many organizations were using the service. Therefore, online volunteering wasn't
really
happening. I knew, per my experience directing the
Virtual Volunteering Project
, that recruiting people that want to volunteer online is oh-so-easy, but that getting organizations to create assignments for online volunteers, and then for those organizations to provide appropriate guidance and support for those online volunteers, was a substantial and ongoing challenge. Therefore, I first focused on developing support materials for organizations that would host online volunteers, and stopped doing any outreach to potential volunteers. As UNV progressed in taking over all management of the service, and working towards hosting the site outside of the NetAid systems, I kept the focus on building the capacities of organizations using the service, through the emerging new web site and through our email communications with users.
Did it work? Yes. During my time at UNV, we saw a substantial increase in the number of online volunteering assignments posted to the service. We also saw a substantial increase in the number of organizations based in the developing world that were using the service to recruit online volunteers, and a substantial increase in the number of online volunteers based in the developing world.
I did screen captures of some of the key pages of the UN's Online Volunteering service as of December 2004, archived at
archive.org
, presented here as PDF files (note that most of the links within these files will NOT work):
"
Who is Using the OV Service?
" , about the United Nations Volunteers Online Volunteering Service. Published in April 2004. You can
download it in PDF from my web site
(it's one page). It's also archived from the original web site,
http://www.onlinevolunteering.org/news/news_article.php?art_id=1298
, at
http://web.archive.org/web/20041205083644/http://www.onlinevolunteering.org/news/news_article.php?art_id=1298


Online Volunteering Service Testimonials From Host Organizations and Volunteers

A selection of stories profiling both volunteers and the organizations they helped all over the world that are no longer available on the OV service. These are not all that were published on the site - all can be found via earlier versions of the OV site at archive.org:













Online event in October 2001
On
Saturday, 27 October and Sunday, October 28, 2001
, UN Volunteers joined CERN in Geneva and online to celebrate UN Day and the increasing role of online technologies in humanitarian work, including virtual volunteering. I was the remote host from Bonn, Germany. My event was on Saturday, and I interviewed Nicolas Fleuri, Sean Osner and others involved in
UNITeS initiative
in Jordan. On Sunday, the event featured a broadcast of live events in Geneva, including the head of UNV, Sharon Capling­-Alakija in Geneva interviewing World Wide Web inventor Tim Berners­-Lee in Boston. The host was Paola Catapano and featured a rollicking performance of the song "Surfing on the Web" by Les Horribles Cernettes. During the event,
Berners-Lee talked about the key role online volunteers played in the development of the web
. During the two-day event, three online volunteers recruited via the UN's Online Volunteering service facilitated
an online discussion about the Global Digital Divide, "Tech for Humanity", and ICT4D
. Note that most of the links in these PDF files, which I downloaded from archive.org, will NOT work. The videos are, unfortunately, long-gone; according to CERN, they outsourced the video web hosting in 2001, and the company,
the Orbigate.net streaming portal/Orbital & Cie
, went under.
As of 2016, UNV has removed support materials for the OV service, or at least made them unavailable for unregistered users. I really wanted this information preserved and easy to access, because even though it's several years old and was written for users of the OV service, the information is, IMO, applicable to using just about any online tool to post volunteering assignments and recruit online volunteers, and can help an organization decide what it needs to do BEFORE it registers on a service and starts recruiting online volunteers.
If you want detailed information on how to work with online volunteers, and how to fully integrate virtual volunteering in to all of your community engagement, see: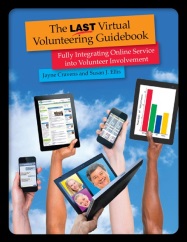 The Last Virtual Volunteering Guidebook

available for purchase as a paperback & an ebook

from Energize, Inc.
Completely revised and updated, & includes lots more advice about microvolunteering!
Published January 2014.

Also see: