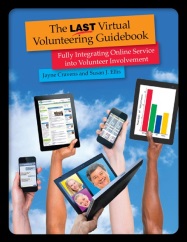 The Last Virtual Volunteering Guidebook
Co-authored by Jayne Cravens (me) and Susan Ellis and published by Energize, Inc., The Last Virtual Volunteering Guidebook is our attempt to document the best practices over the more than three decades virtual volunteering has been happening, in a comprehensive, detailed way, so that the collective knowledge can be used with the latest digital engagement initiatives to help people volunteer, advocate for causes they care about, connect with communities and make a difference. Itís a tool primarily for organizations, but thereís also information for online volunteers themselves. Itís available both in traditional print form and in digital version. Released in January 2014, The Last Virtual Volunteering Guidebook reflects all that has changed -- and remained the same -- since the first version of the book was published online in 2000. The guidebook, which has been completely revised, still includes the basics for getting started with involving and supporting volunteers online, but it goes much farther, offering detailed information to help organizations that are already engaged in virtual volunteering with improving and expanding their programs. It also offers more international perspectives. The first book was focused on people who had never heard of virtual volunteering; this revised book still serves as the most comprehensive introduction to the subject available, but provides much more in-depth information and guidance for organizations already engaging online volunteers, who want to improve or expand their virtual volunteering activities. We're well into the 21st Century, and this book will help organizations get up-to-speed quickly on using the Internet to support and involve a variety of volunteers, or to expand their current use of such for volunteers, and to prepare and leverage new Internet tools as they come our way.
New and advanced information includes:
Using Internet tools as a way to get to know all volunteers better.
Detailed advice on virtual volunteering assignment, including one-time "Byte-Sized" tasks (micro volunteering), longer-term, higher-responsibilities and virtual team assignments.

A thorough look at various practices for screening and matching volunteers to assignments, with an eye to getting the most capable volunteers into your volunteering ranks and preventing incomplete assignments or burdensome management tasks

How to make online volunteer roles accessible and diverse

More details about how to work successfully with online volunteers, so that they are successful, your organization benefits and volunteer managers aren't overwhelmed

Balancing safety with program goals

Respecting privacy of both the organization and online volunteers themselves

Online mentoring

Blogging by, for and about volunteers

Online activism

Spontaneous online volunteers

Live online events with volunteers

The future of virtual volunteering and how to start planning for oncoming trends
There's also a new chapter just for online volunteers themselves, which organizations can also use in creating their own materials for online volunteers.
The

Last

Virtual Volunteering Guidebook is available for purchase as a paperback and an ebook from Energize, Inc.
In conjunction with the revised guidebook is the Virtual Volunteering Wiki, a free online resource and collaborative space for sharing resources regarding virtual volunteering. We are seeking a partner university or college that could recruit an intern from among students studying in its post-graduate program to keep this wiki updated.

And be sure to:
Follow me on Twitter @jcravens42.
Subscribe to Tech4Impact, my free monthly email newsletter to help nonprofits / NGOs / civil society get the most out of computer and Internet technology.




Also subscribe to my blog.
More about the history of the book:

Back in 1999, Energize, Inc. and the Virtual Volunteering Project, based at the University of Texas at Austin, released the Virtual Volunteering Guidebook, a free book available for download, in .PDF, that offered the most detailed information available at that time on the basics of setting up and managing a successful virtual volunteering program. This book captured the contributions of more than 100 collaborating organizations and online volunteers who worked with the Virtual Volunteering Project from 1996 - 1999. The guidebook was co-authored by Susan Ellis and Jayne Cravens (me).
Even after I left the Virtual Volunteering Project in early 2001 and the project was put on permanent hiatus, I kept researching virtual volunteering, continually gathering information about the practice, and continuing to write and to train on the subject of using the Internet to engage and support volunteers. Working abroad in Germany for eight years, four of them directing the Online Volunteering service at United Nations Volunteers (part of UNDP), gave me a unique global perspective on practices around virtual volunteering as well.

I've invested a lot of time (completely unfunded!), and even some of my own funds, to help make this new book a reality; I've worked hard to make this book worth the purchase price, and to be a resource you can turn to any time for support in your engagement with volunteers online.
Also see:
Safety in Virtual Volunteering - a blog that offers suggestions about how to address risk management in the engagement of online volunteers, whether they are working with clients or working independently on microtasks, and emphasizes the importance of exploring various scenarios regarding safety and confidentiality.


The original Virtual Volunteering Guidebook from 2000 is still available for free online from Energize, Inc. Not entirely out-of-date, still has a lot of valuable information, and if you honestly cannot afford the latest, completely revised and greatly expanded version, it's better than nothing. But you will be missing out on a LOT by using this instead of the revised version.


An archived version of the Virtual Volunteering Project, as it was when I left and it went on hiatus in January 2001.